Letter to our Shareholders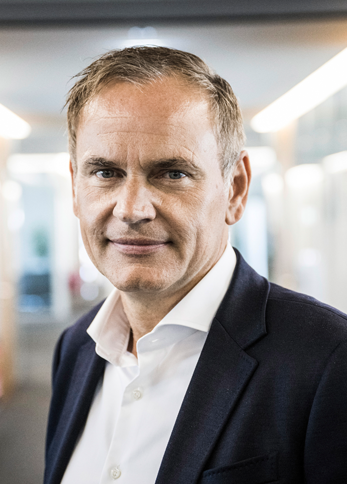 We continued our transformation toward electric, digital mobility and strengthened our financial resilience in fiscal year 2022. I am delighted with the remarkable effort made by our team of more than 675,000 employees. Our robust financial situation will enable us to make a strong investment in the future in 2023. The automotive industry will change more in the next five years than in the previous 50. In my new role as the Group's CEO, I want to make our company even more successful, even more sustainable and even more valuable in the new era of electric and digital mobility.
We are well prepared for this transformation both strategically and financially. The Volkswagen Group achieved a solid result in 2022 and improved its profitability. And it did so in a challenging environment. Our continued price and cost discipline and improvements in the mix contributed to this result. As a consequence, we increased our operating result before special items by €2.5 billion to €22.5 billion. Sales revenue rose by 11.6% to €279.2 billion thanks to improvements in the mix and in our price positioning.
We are pleased that we can also let you, our shareholders, share in this success. The Board of Management and Supervisory Board propose a dividend of €8.70 per ordinary share and €8.76 per preferred share, a year-over-year increase of €1.20 per ordinary and preferred share, respectively.
My personal highlight in fiscal year 2022 was Porsche's IPO. The IPO marked a historic day and Porsche is more independent and agile. Its new independence allows the brand to gain even more momentum. At the same time, the IPO brought in proceeds of around €16 billion for the Group. This means our Automotive Division closed fiscal year 2022 with net liquidity of €43 billion.
One priority in the past year was to strengthen the robustness of our global operations. In view of geopolitical developments such as nationalism or protectionism, we will further diversify our business globally.
We are the market leader in Europe and China and aim to hold this position. At the same time, we have expanded our business in the United States and have an ambitious growth plan. Local production of the Volkswagen ID.4 has started at the plant in Chattanooga. With our newly launched Scout project, we plan to enter the attractive US pickup and rugged SUV market. In Canada, we have started the search for a site for a battery gigafactory. Growing electrification of the US automotive industry is creating the biggest strategic growth opportunity for the Group in the market. In China, we will continue to invest in e-mobility and software. Together with Horizon Robotics, the Group will press ahead with developing driver assistance systems and highly automated driving in China.
Another priority in the past year was our company's financial robustness. The aim is to make more efficient use of our capital. We are sharpening our focus on return and net cash flow. I am determined to increase the value of our company in a sustainable manner. That is why last year we began creating virtual equity stories for our brands, brand groups and value drivers in the Group. In this way we aim to make the Group's strengths more visible and increase value in the long term. We will report on the initial results in the second quarter of 2023.
In 2022, we also took a major step forward in our transformation towards sustainable mobility, and increased the share of electric vehicles relative to total deliveries. Almost 7% of all the vehicles we delivered worldwide were powered by electricity alone. Overall, we sold 572,000 e-cars, a good 26% more than in the previous year. This year, we are aiming for electric vehicles to account for around 10% of our sales. TRATON will also continue to push forward with the electrification of its buses and trucks.
A faster ramp-up of e-mobility requires us to expand our battery capacities and charging networks. In 2022, we pooled our battery cell manufacturing activities within the newly established PowerCo battery unit. Following the groundbreaking ceremony last July, our very first battery cell factory is currently being built in Salzgitter, and we have already decided on the locations for three of the planned six battery factories in Europe. In the past fiscal year, we launched a joint venture with Enel in Italy and strengthened our partnership with bp in Europe in order to expand the charging network for our customers. Alongside progress with our Electrify America charging network in the USA and CAMS in China, this has brought us a step closer to our goal of creating 45,000 fast charging points worldwide by 2025.
Electric mobility is the greatest lever in achieving our objective of net carbon neutrality in 2050. A considerable difference is also made by a more intense use of green electricity, which we already employ for the entire external power supply at our European plants. Furthermore, I am delighted that the prestigious Science Based Targets Initiative has honored our more stringent CO2 targets in production. We aim to reduce production-related CO2 emissions from our passenger cars and light commercial vehicles by 50% by 2030, an improvement on the initial goal of 30%.
One of our most pressing issues last year was the reorganization of our software activities. Establishing our automotive software unit CARIAD was very clearly the right decision, and now we have taken CARIAD a step further: we have examined which core competencies we will cater for in house and where partnerships make more sense. We have redefined the interfaces to our brands and optimized processes and tools. Our long-term goal continues to be the development of uniform software for the Group that allows us to fully leverage the economies of scale.
Together with my Board of Management team, I set out from day one to give the Volkswagen Group a new format. One that is strong, robust, resilient, digital and sustainable.
Last year, we also expanded our mobility solutions further in order to meet the mobility needs of our customers in the best way possible both now and in the future. Together with partners, we acquired Europcar and recently launched the pilot phase of our new mobility platform in Vienna. This app will cover the ecosystem of mobile services across all brands, from subscription models for several months, through leasing, to car sharing for a few minutes.
Together with my Board of Management team, I set out from day one to give the Volkswagen Group a new format. One that is strong, robust, resilient, digital and sustainable. In 2022, we took stock of the most important areas of action, tackled a large number of issues and made many decisions. The direction has been set with our new ten-point plan.
We will start implementing the plan this year and will report regularly on progress. Our goal is to play a leading role in the market for e-mobility, too, with first-class products and services that boast persuasive design and technology, and a convincing user experience. We continue to work on achieving a globally balanced presence in Europe, in China, and with a strong third pillar in North America. And we are controlling our brands and platforms by means of binding key performance indicators, while at the same time promoting entrepreneurship and sustainable value creation.
These are all tasks that we are tackling together as a team. I warmly invite you to join the Board of Management team and me as we implement our strategy in 2023.
Sincerely,
Oliver Blume
Net carbon neutrality
Net carbon neutrality will be achieved if anthropogenic CO2 (carbon dioxide) emissions are offset globally through avoidance, reduction and compensation over a specified period of time. This encompasses all other relevant greenhouse gases as well. Avoidance and reduction of such gases is a priority for the Volkswagen Group.