SEAT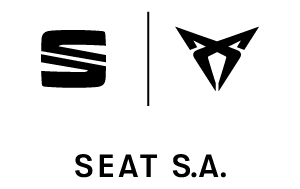 SEAT is one company with two complementary brands: SEAT and CUPRA. In 2022, CUPRA cemented its position as Europe's fastest growing automotive brand and increased deliveries by 93%, driving the financial turnaround of the company.
BUSINESS DEVELOPMENT
CUPRA is the unconventional challenger brand that brings together emotion, electrification and performance to inspire the world from Barcelona. In 2022, CUPRA presented three concept vehicles for a new era of its vision up to 2025: the CUPRA Tavascan, as the brand's first electric SUV, underscores the brand's aim of becoming more global and entering new markets. The CUPRA Terramar is a sporty SUV with a powerful and striking design. The third concept model, the CUPRA UrbanRebel, is designed to democratize sustainable urban mobility. CUPRA reached new heights in 2022, led by the bestselling CUPRA Formentor. The brand's first standalone model saw deliveries to customers of 98 thousand units. CUPRA's second most popular model, the all-electric CUPRA Born, marked its first full year on the market with 31 thousand units delivered and multiple awards from trade magazines.
SEAT is the Group brand with Europe's youngest customer profile. In 2022, SEAT enhanced its SUV flagship, the Tarraco, with the Xperience equipment package. The brand also reached a major milestone with the sale of the one millionth SUV.
Deliveries to customers from SEAT and CUPRA fell by 18.1% to 386 thousand vehicles in fiscal year 2022, mainly due to the challenges arising from the shortage of semiconductors. However, the CUPRA brand increased sales by 93% to 153 thousand vehicles, thereby driving the company's financial turnaround.
The company's unit sales amounted to 468 thousand units in the reporting year. This was 5.2% less than in the previous year. This figure also includes the A1 manufactured for Audi.
SEAT and CUPRA produced 420 thousand vehicles in the reporting period. This was 0.8% fewer than in the prior year.
SALES REVENUE AND EARNINGS
SEAT's sales revenue was up 13.8% to €10.9 billion in 2022. Positive mix effects, an improved price positioning and cost reductions drove SEAT's operating result significantly into the black, although one-off expenses for restructuring measures of €247 million ultimately led to a result of €33 (−233) million. The operating return on sales amounted to 0.3 (−2.4)%.
PRODUCTION

| | | | | |
| --- | --- | --- | --- | --- |
| Units | | 2022 | | 2021 |
| | | | | |
| SEAT | | | | |
| Arona | | 85,717 | | 98,656 |
| Ibiza | | 60,385 | | 83,710 |
| Ateca | | 49,316 | | 53,995 |
| Leon | | 36,247 | | 70,143 |
| Tarraco | | 12,453 | | 22,437 |
| Alhambra | | 5,341 | | 4,169 |
| Mii | | – | | 8,648 |
| | | 249,459 | | 341,758 |
| CUPRA | | | | |
| Formentor | | 105,568 | | 58,863 |
| Born | | 36,153 | | 4,801 |
| Leon | | 20,070 | | 13,670 |
| Ateca | | 8,841 | | 4,505 |
| | | 170,632 | | 81,839 |
| | | | | |
| SEAT and CUPRA | | 420,091 | | 423,597 |
SEAT

| | | | | | | |
| --- | --- | --- | --- | --- | --- | --- |
| | | 2022 | | 2021 | | % |
| | | | | | | |
| Deliveries (thousand units) | | 386 | | 471 | | −18.1 |
| Vehicle sales | | 468 | | 494 | | −5.2 |
| Production | | 420 | | 424 | | −0.8 |
| Sales revenue (€ million) | | 10,941 | | 9,614 | | +13.8 |
| Operating result | | 33 | | −233 | | x |
| Operating return on sales (%) | | 0.3 | | −2.4 | | |
CUPRA Formentor