Volkswagen Group China
In fiscal year 2022, the Volkswagen Group made further progress with its ambitious transformation in China, achieving significant growth in deliveries of all-electric vehicles.
BUSINESS DEVELOPMENT
Despite the challenges arising from the Covid-19 pandemic and the shortage of semiconductors, Volkswagen Group China maintained its market leadership in China in 2022 with a market share of 15.1%, and continued to drive the ambitious transformation to fully connected e-mobility. With 206,500 vehicles delivered, sales of NEVs rose by 37.1% compared with the previous year, while BEV deliveries were up 68.2% year-on-year. The key driver of this electric momentum in China was the successful ID. family of the Volkswagen Passenger Cars brand. ID. family deliveries more than doubled compared with the previous year. Another family member, the ID. Aero concept car, is already in the starting blocks.
Together with the Chinese joint ventures, Volkswagen Group China delivered 3.2 (3.3) million vehicles (including imports) in the Chinese market in 2022 (−3.6%). The Volkswagen Passenger Cars brand, including JETTA, delivered 2.4 million vehicles (−1.3%) and, with a market share of 11.4 (11.7)%, remained number one with Chinese customers despite the challenging environment. This figure includes 180,600 NEV vehicles (+51.6%).
In the premium and sports segment, Audi delivered 642,548 vehicles to customers in China. The number of all-electric models delivered was up 9.8%. Under the new "Vorsprung 2030" strategy, the Audi brand forms a cornerstone of the advancing transformation of products in China in addition to production and development capacities. Audi has further expanded its portfolio of all-electric models with the roll out of the Audi Q4 e-tron, Q5 e-tron Roadjet and RS e-tron GT models. Moreover, the Audi FAW NEV Company began the construction of its plant in Changchun. Only all-electric models based on the PPE platform will roll off the production line at this location.
In the past year, Porsche delivered 93,286 vehicles in China, its largest individual market. The electrification strategy has made steady progress in China in terms of both product range and charging stations. Porsche had introduced a total of 21 NEV models in China by the end of 2022, nine of which are the Taycan and its derivatives. Bentley celebrated its 20th anniversary in China in 2022 with total deliveries of 3,655 vehicles. Lamborghini's delivery of 1,018 vehicles represents a 8.9% increase compared with 2021.
Volkswagen Group China made considerable progress in its transformation in fiscal year 2022; the introduction of a new management model has facilitated rapid, autonomous decision-making and optimized cooperation among brands. CARIAD, the Group's software company, has established its subsidiary in China, thus systematically driving software development and digitalization. Moreover, Volkswagen Group China has announced a collaboration with Horizon Robotics in order to implement local solutions for automated driving together. In December, the first pre-series vehicle rolled off the production line at Volkswagen's ultramodern MEB plant in Anhui. Volkswagen Group China also drove the expansion of the energy supply network, creating, with the charging joint venture CAMS, more than 1,000 charging stations with over 9,000 charging points.
Thousand units

2022

2021

%

Deliveries

3,185

3,305

−3.6

Vehicle sales1

3,122

3,042

+2.6

Production

3,160

2,949

+7.2
EARNINGS

| | | | | |
| --- | --- | --- | --- | --- |
| € million | | 2022 | | 2021 |
| | | | | |
| Operating result (100%) | | 8,827 | | 8,740 |
| Operating result (proportionate) | | 3,280 | | 3,026 |
Our joint ventures produced a total of 3.2 (2.9) million vehicles in fiscal year 2022. The joint ventures produce a mixture of established Group models and those specially modified for Chinese customers (e.g. with extended wheelbases), as well as vehicles developed exclusively for the Chinese market (such as the Volkswagen Lamando, Teramont, ID.6 X, or ID.6 CROZZ).
The proportionate operating result of the joint ventures in the reporting year stood at €3.3 (3.0) billion. The negative impacts of a highly competitive market environment and pandemic-related restrictions were offset by improvements in the mix and cost optimization.
The figures of the Chinese joint venture companies are not included in the operating profit of the Group as they are accounted for using the equity method. Their profits are included solely in the Group's financial result on a proportionate basis.
ID. Aero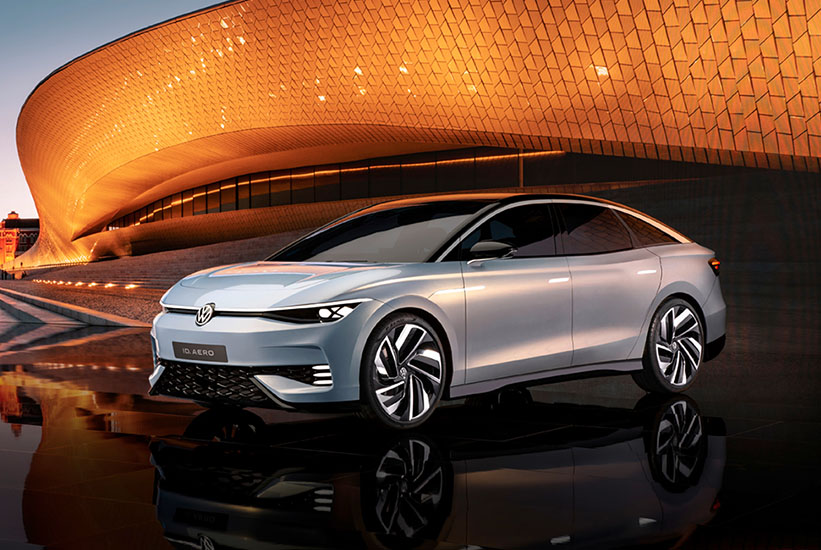 LOCAL PRODUCTION

| | | | | |
| --- | --- | --- | --- | --- |
| Units | | 2022 | | 2021 |
| | | | | |
| Volkswagen Passenger Cars | | 2,513,613 | | 2,288,021 |
| Audi | | 604,439 | | 606,509 |
| ŠKODA | | 41,936 | | 54,401 |
| Total | | 3,159,988 | | 2,948,931 |
Modular Electric Drive Toolkit (MEB)
The modular system is for the manufacturing of electric vehicles. The MEB establishes parameters for axles, drive systems, high-voltage batteries, wheelbases and weight ratios to ensure a vehicle optimally fulfills the requirements of e-mobility. The production of the first vehicles based on the MEB started into series production in 2020.